LouLou the Pug

LouLou is a 5 year old pug who lives in the Netherlands! LouLou's human's name is BLANK and is an absolute rockstar, we are so thankful for her sharing LouLou with the world! Their photos are seriously to die for, check them out. Our favorite is when BLANK dresses LouLou up as Yoda from Star wars, absolutely hysterical. LouLou's birthday is June 14th and share's a birthday with Singer and Song writer, Jesy Nelson.
Being a pet influencer
Over the years, LouLou has amassed over 280,000 followers, and rightfully so. With spectacular outfits and a stunning smile that makes you want to jump through the phone and grab her cheeks, it's no surprise that LouLou has been such a hit in the Instagram community. LouLou is also on TikTok, and Facebook where you should also definitely check her out.
LouLou also has blog where she talks about all things you would expect a pug to talk about. LOL, but seriously, LouLou's mom, BLANK, does a fantastic job matching LouLou's persona and tone, we definitely enjoyed reading her article about pug paw health. If you're a pug owner, you should check it out.
Bonus LouLou Material
LouLous has also been featured in Buzzfeed and the Huffington Post, where they talk all about LouLou and her journey to stardom!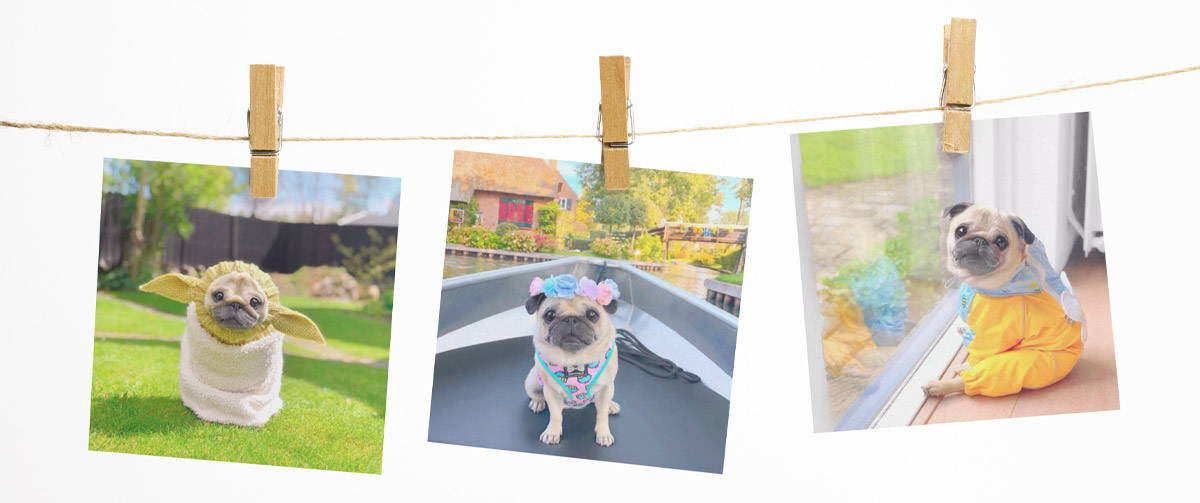 We asked BLANK some fun questions about LouLou, and here are her answers.
If LouLou was a famous person, who would they be and why?


If LouLou was a famous person, she would Melissa McCarthy because she's absolutely hysterical and absolutely owns the room when she walks in with her charm and charisma.

What's LouLou's favorite human food?

French Fries, definitely french fries.

Who are your 3 internet pet besties?

Rocko_the_pug, pugshine, puggo_groot

What's your favorite memory you share with LouLou?
What do you think LouLou's favorite brand would be?
What's is LouLou afraid of?
1 weird quirk or thing LouLou does or has

She loves to hop when she goes up the stairs, it's hysterical and adorable.

LouLou's favorite toy?
What's LouLou's favorite game to play?

Definitely sleeping. Sleeping is her favorite game.

What's your favorite Pop Your Pup product?

Are you a pet lover?
Check out our custom products made just for pet lovers who love celebrating their pets. Show off your dog or cat in over 100 different ways. We make custom portraits of your pet in 4 fun different art types like pop art pet portraits, royal influenced pet art, and modern art styles.
Over 200,000 Pet lovers served
We are proud to be the worlds first to revolutionize the world of custom pet art. Since 2013 we have served over 200,000 pet lovers like you! Let's make it 200,001!