Welcome to Pop Your Pup, the Original Pet art company. Since 2013 we have been making custom pet portraits and printing them on all kinds of goodies.
We have one goal at Pop Your Pup, and that's to CELEBRATE YOUR PET!
How to Make a Dog Diaper Using an Old T-Shirt
Need to make dog diaper, and fast?
Chances are, if you're a dog owner you've experienced an 'accident' once or twice. But what happens when the accidents don't stop? Whether it be young age, old age, or your pup is going through her first menstrual cycle, experiencing a sudden need for a dog diaper can bring on a sense of worry and anxiety.
In this article we'll guide you on how to make a quick dog diaper in a pinch using an old shirt, and also give some recommendations of disposable and re-useable dog diapers we've tested that we believe are good to have if your pupper keeps having accidents.
This may be useful one day!
Every dog owner wants to maintain a clean and fresh household. However, that ideal may become difficult to achieve with a dog in the house, a dog that may often mark their territories on your carpet or leave you a smelly little present on your bed while you're away.
There are several options pet owners have in their disposal when it comes to dogs' bathroom needs. One common option is to regularly take the dog outside. Many dogs are vocal and voice their desires when it's potty time. However, this option may be difficult, especially for pet owners who are often away for long hours when at work. Another option is to potty train the dog at a young age. Although another good option, this may not be possible for everyone, especially for those who adopted an untrained, older dog.
There's the final option, the option of placing your dog in a diaper. Although there are several benefits of choosing this option—this is great for incontinent dogs and dogs in heat—regularly purchasing dog diapers can be costly. Fortunately, there is a cheaper alternative: DIY reusable dog diapers made out of unwanted t-shirts.
Creating a dog diaper out of a t-shirt is easy, and it often doesn't require any sewing skills. You simply need an old, unwanted t-shirt, and some pins. Make sure the t-shirt you use is 100 percent cotton because it is more absorbent. Also make sure that you're using a shirt with short or three-quarter-length sleeves, as it makes pinning the diaper together easier. Finally, make sure the shirt is the right size for your dog. For example, a German shepherd may require a medium-sized shirt while a beagle may need a size small.
Step 1: Lay the shirt flat on a surface. A table or floor will do.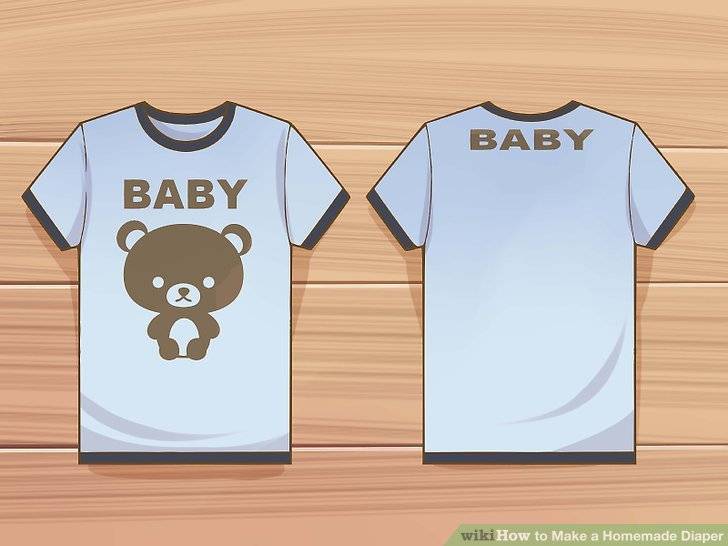 Step 2: Fold one side of the shirt over. The bottom of the shirt should be folded ⅓ of the way. The seam where the sleeves meet the shirt's body should align below the center of the neckline.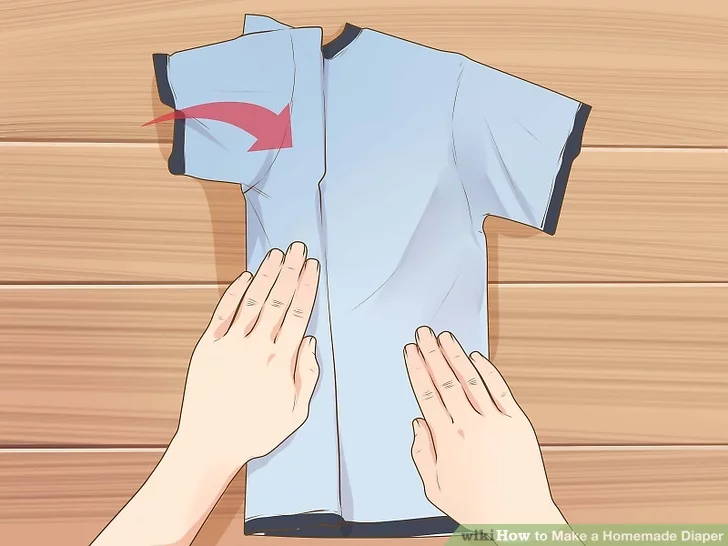 Step 3: Fold the other side of the shirt over. This process is similar to the folding you did for the first side.
Step 4: Fold the top of the shirt down, creating a "t" shape.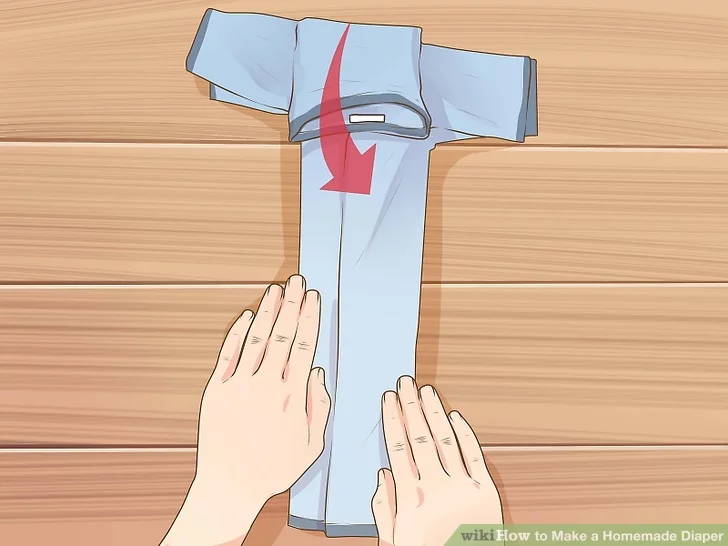 Step 5: Fold the bottom of the shirt in half, shortening the shirt.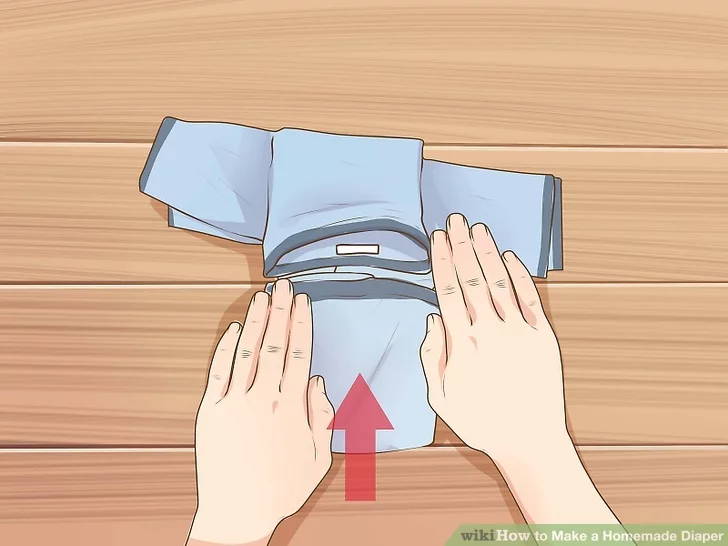 Step 6: Wrap the diaper around your dog by bringing the bottom portion of the diaper up and over the front of your dog and wrapping the sleeves around the back and to the front. Pin the sleeves together.
Step 7: Cut a hole in the back where you want your dog's tail to emerge.
For more information about creating a DIY diaper for your dog using a shirt, see WikiHow's article.
T-shirt dog diaper alternatives we tested
Great, we've learned how to create a dog diaper out of a t-shirt when we're in a pinch, but in our opinion, it's only a temporary fix. The shirts are only so absorbent, and well, you'll quickly learn that handling a soiled t-shirt isn't the most fun. And if you don't plan on washing and re-using the shirt it's only a matter of time before you're walking around with no shirt on, cold and getting weird looks. Talk about taking the shirt off your back.
If you think you might need to do this again in the near future, we strongly recommend grabbing a pack of disposable or easily re-useable dog diapers. Here are some options that we have personally tried and we were happy to have handy.
These disposable diapers were our favorite, they're super convenient and they worked really well. We actually thought that these work best for overnight as they are super absorbent and can handle multiple accidents if they occur, which we can imagine offers a lot of peace of mind for those who have senior pets or pets with a disability.
We were originally pretty skeptical about these, but we must admit, we were pleasantly surprised. We tried these on a golden retriever (just to test fit) and she didn't mind having it on at all, and the fit seemed very secure and snug. We also poured a full glass of water inside to test the absorbency and they did the job!
Get yours here
---
Carpet and floor Cleaning Recommendations
Out of the 3 topical cleaners we used, this one was by far the best. We used the least amount of spray and the fragrance used to cover the pet odor was the least synthetic.
Get yours here
We thought this option was the best bang for the buck. We had to use a bit more spray which left the rug a bit more wet, but it did work well covering the smell.
Get yours here
The cheapest option was also the product we had to use the most of, which left us using lots of paper towels to soak up. At the end of it all, we do think it did the trick.
Get yours here
---
Your dog won't wear a diaper?
We've heard of some having issues with their dogs not liking the idea of wearing a diaper. They cry or just tear it off. If that's the case for you, try out these pee pee pads
Now that you've learned how to create a dog diaper out of a t-shirt, it's time to figure out this important detail: cleanup. How do you clean a used diaper soiled by your dog? Well, you have two options. If you're too averse to the idea of reusing a soiled diaper, you can throw the t-shirt away. Of course, this defeats the purpose of a DIY reusable dog diaper.
Another option is to put it in the washing machine. For an item like this, it's best that you wash the diaper on its own so that the waste or bodily fluid collected in the shirt doesn't get to your clothes, towels, and blankets. It is also wise to flush any feces away down the toilet before placing the diaper in the wash.
Remember, it's recommended that you change your dog's diaper once a day at the very least. To prepare for this, either wash your dog's diaper every day or create multiple dog diapers. If you're trying to accommodate for a dog in heat, keep in mind that dogs heat up to one month. Prepare accordingly.
Are you a pet lover?
Check out our custom products made just for pet lovers who love celebrating their pets. Show off your dog or cat in over 100 different ways. We make custom portraits of your pet in 4 fun different art types like pop art pet portraits, royal influenced pet art, and modern art styles.
Over 200,000 Pet lovers served
We are proud to be the worlds first to revolutionize the world of custom pet art. Since 2013 we have served over 200,000 pet lovers like you! Let's make it 200,001!